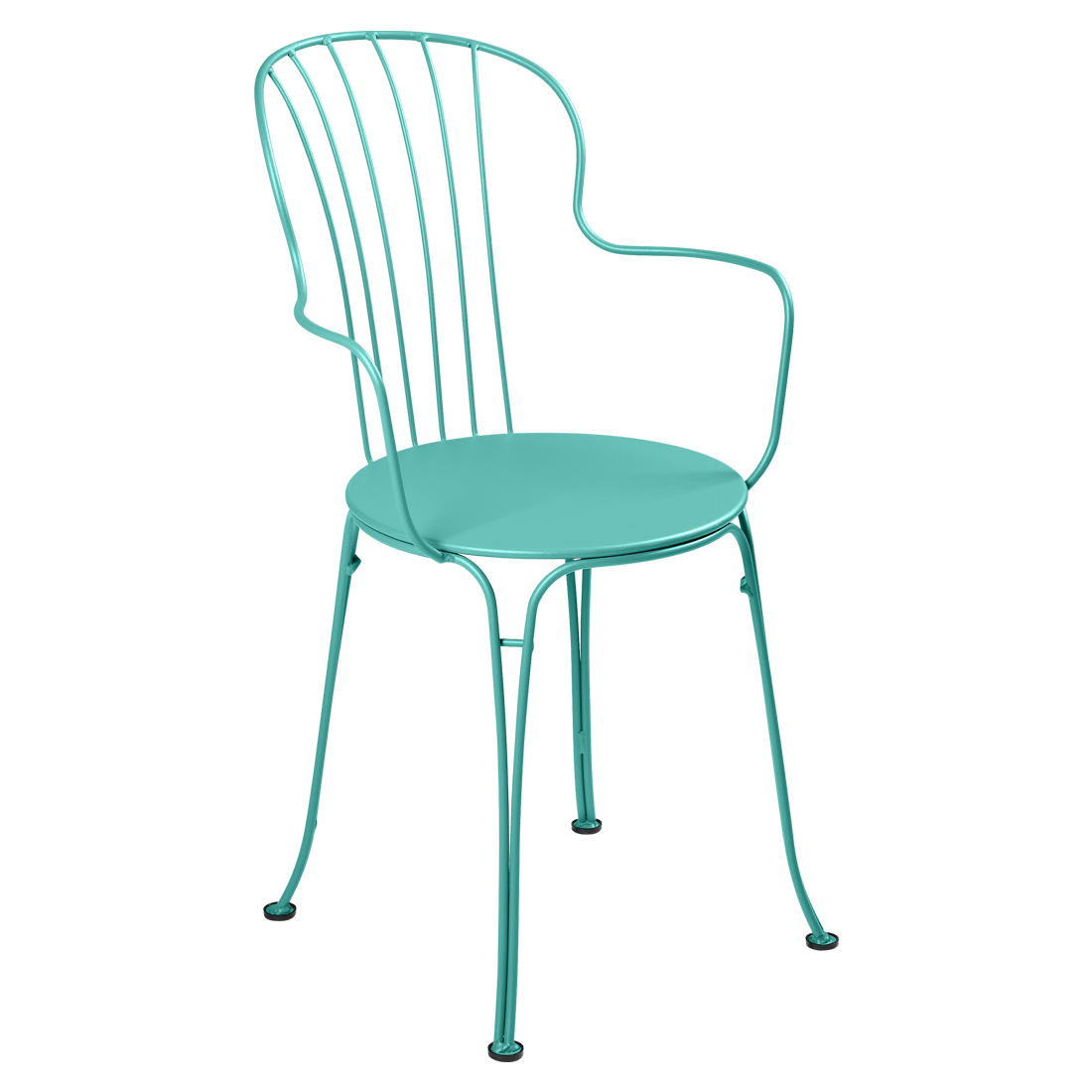 Just imagine settling into your Opéra+ armchair as you tuck into a meal with your family, enjoy some quiet time with a good book in your garden, or watch a passing parade from the comfort of your balcony. Whatever the occasion, guests and onlookers are sure to be green with envy!
Head out onto your patio or terrace, sit down, place your arms on the armrests, and settle back against the slightly inclined backrest. And because you've earned that extra touch of luxury, add a Color Mix seat cushion to your Opéra+ armchair for even more comfort!
The backrest is a true feat of technical prowess. Made from a single wire of premium-grade steel, it's built to last and can withstand even the harshest outdoor conditions. Put all that together, and you have a piece that'll be with you for years, without ageing one bit! What's more, the flared feet make this armchair ultra-stable and stacking.
Its eye-catching designer appeal means it even makes the ideal statement piecefor your bedroom, perhaps as somewhere to place your clothes.
The Opéra+ armchair is easy to live with and adds a touch of timeless eleganceto your outdoor space. It's available in every shade of the Fermob colour chart, making the perfect match for the tables from the same collection – and from other collections. Whatever you choose, you're guaranteed to have a unique garden set. So treat yourself – and embrace endless possibilities.
Shipping
Fast shipping
We use DHL for all our online orders. We'll provide you with tracking information once your order is sent, and we aim to have all orders sent the next working day.
Outdoor Furniture
Your outdoor furniture order may take some time, dependent on the items you have selected. Lead times will vary, so please get in touch if you have any queries about how long your order will take.
Get in touch
If you have any queries about your order, or if you have questions prior to placing an order, call our friendly team on 0208 297 9439, or email us at shop@hortus-london.com.
Our Story
hortus was initially created as a shop window for our garden design and construction services, whilst also allowing us to indulge our passion for beautifully designed products. Independently owned by Julia Keen and Brian Hamilton, hortus is now established as one of the finest gardening stores in the country.
Our store
In our bricks and mortar store, we also stock indoor and outdoor plants, as well as a weekly fresh cut flower offering. We're always on hand to offer any advice you may need on taking care of your plants. We have a long standing relationship with all our suppliers, so if you're looking for something specific, do let us know and we may be able to source it for you.